Easter!

Could there have been a better family holiday in the last few years or what? It was a frickin' awesome day. J, lil man, Austin, and I drove up to my mom's house to spend Easter with the family. J found the cd player tape hookup thing, so we enjoyed listening to the first cd of The Secret book on tape. Most of the ride I listened, feeling uplifted and meditating on the certain points of my dear universe list. One of which was that I wanted the day to be relaxed, happy, and for everyone involved to be stress free. I think I'll credit that meditation to the super pleasant day that it was. Family get-togethers can be quite a mixed bag with my family, so it makes it all the more satisfying when you get a good one with no fights, yelling, hard feelings, or weirdness.

When we got there, my mom had just finished all the extensive cooking and immediately stole the baby boy *smile*. Watching her try to get the last few things out of the oven with him in her arms was most amusing. I ran into the living room and forced a big hello hug on my older stoic brother. And then, as pregnant starving women often do, went straight for the food. Dad came in a little bit later from delivering Easter dinner to my younger brother who unfortunately had to work. Lukas ran around the house entertaining us all and getting into as much trouble as he could.

The original plan was to have a small Easter egg hunt, Lukas's first. But the weather wasn't cooperating well, spitting out huge pretty snowflakes, so we manifested a small hunt inside the living room and kitchen. Austin insisted on participating, though I think it was more for the candy than for the challenge. We were able to encourage Lukas to pick up some of the eggs and put them in the basket, but after a few, he was far more interested in the eggs he had than in looking for any more. He even managed to figure out how to open them and tried to eat the chocolate through the foil. I allowed him three pieces of chocolate, which placated him for a bit.

My mom had worried that there wouldn't be enough to entertain the lil toddler of terror, so she had asked us to bring a toy or too. We had brought a ball, which he threw around a little bit, but the hit of the day for him were mom's collection of feather dusters. Those things led to much amusement in the way of feather duster sword fights between all of us but especially the two kids. And then once the eggs were out, the lil boy had nothing but fun.

Dinner was fantastic, consisting of smoked ham, roast, green beans, potatoes and gravy, mom's infamous broccoli casserole, deviled eggs, banana croquettes and rolls. The roast was melt in your mouth good! I ate entirely too much and felt like my belly was going to split like a watermelon. As for the banana croquettes, mmm mmm good. Apparently, those are a very centralized recipe that comes from only a few county area in KY. There has never been a family get together in my memory without those gems. However, since I loooooove them so much, I'm going to share the recipe with the world in order to share the banana love.

This recipe isn't exactly rocket science, nor exact, you kind of just have to make it to taste. And believe me, as repulsive as it might sound at first, it's one of the few pleasures of life:

Banana Croquettes

Mix mayonnaise with a little sugar. Take bananas (cut in half or quarters, but keep them round, not cut lengthwise) and roll in the mayonnaise mixture completely to coat. Then roll bananas in chopped peanuts. Allow to sit in a refrigerator for just a bit to help with the sticking :) Then eat eat eat.

Doing a google on the croquettes, I did find several variations on the web, one recipe even going back to a Boston cookbook in the very early 1900's, but our recipe is easiest :).

Let's see, what else.....I did have J take some pictures of me at Mom's to show just how big and preggo I have become. I swear though I've gained less weight with this pregnancy (only 17 lbs compared to the 28 of last time) and am now at the exact same weight I delivered last time, I look soooo much bigger. I laughingly call myself "the beached whale" when you see the pictures beneath the cut, you may see why.

After my family visit, we had to run Austin home, and then make a pit stop at J's parents' house, where we were again faced with helping them eat some ham. J's mom had cooked a ham in a crockpot for eight hours and they were pulling it off the bone and making little ham and cheese sandwiches. I must say, best ham I ever tasted in my life, but it looked so dark that it resembled roast....and honestly, it didn't taste like ham at all. lol!

Finally, it was home again home again, jiggity jig with my booty of Reese's peanut butter eggs to watch horror movies on demand. *giggle* nothing says Easter like a little blood and gore :).



1. Feather duster wars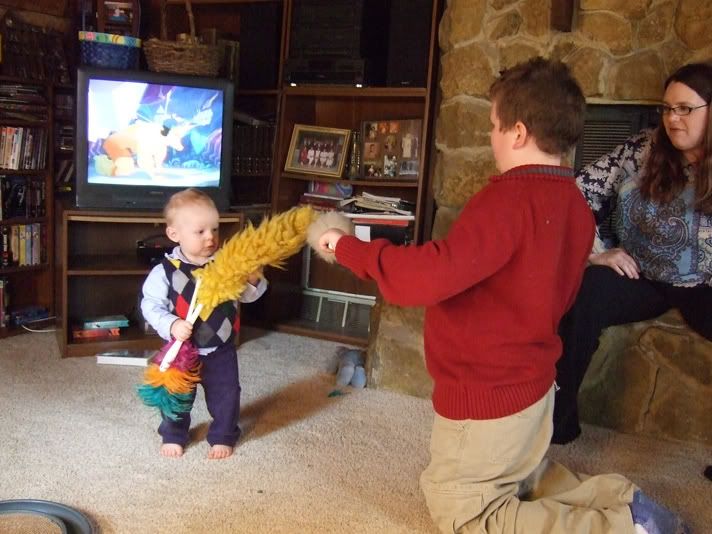 2. "You put the eggs in the basket"


3. Easter is awesome!


4.I've got the eggs, hehehe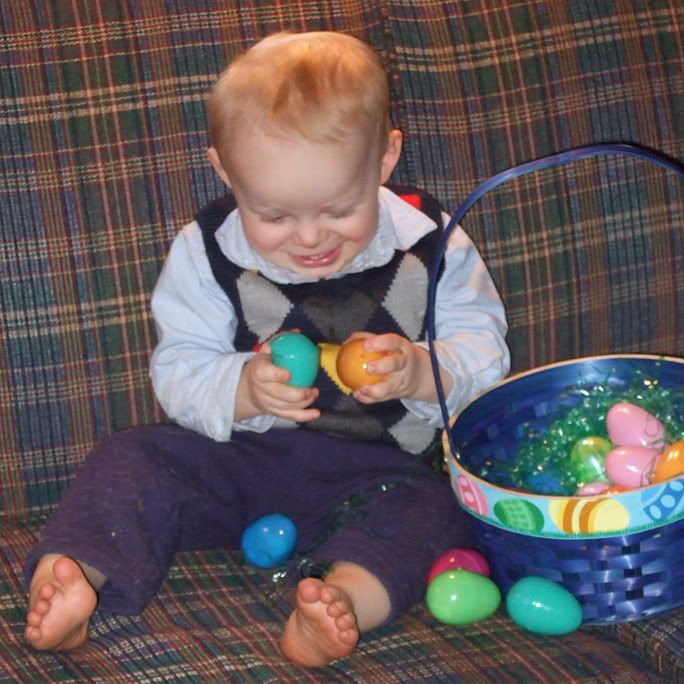 5. Oh, you think you want one of these? I'm not sure you can have one....teasing grandpa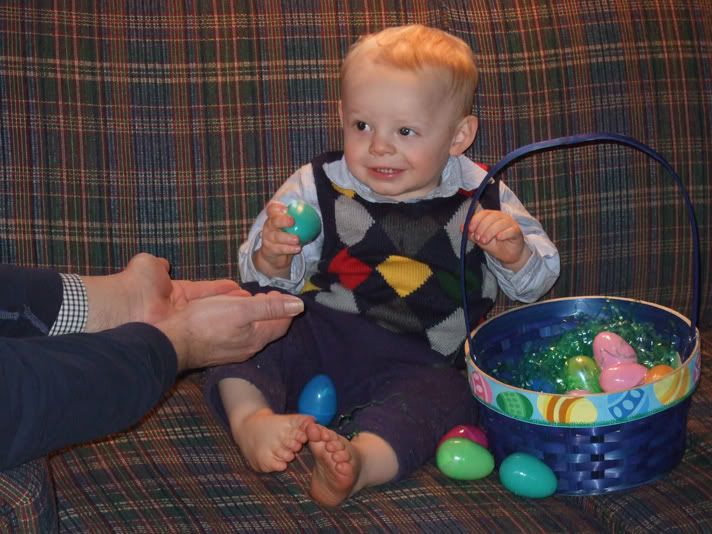 6. They are all mine! muhahahah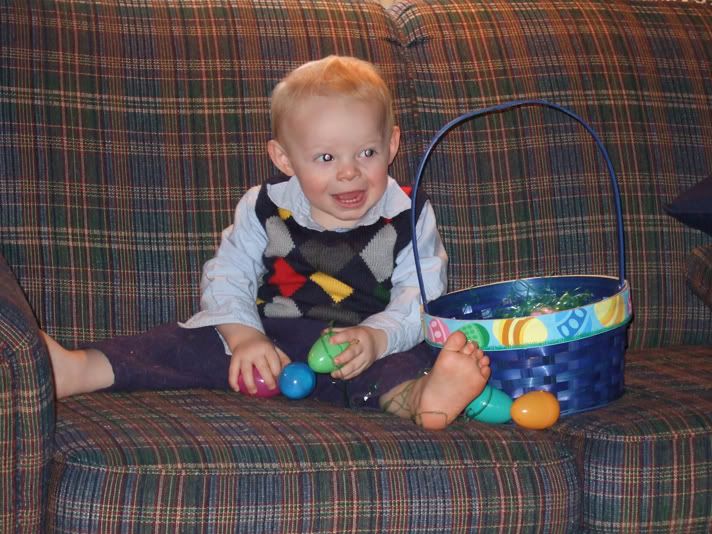 7. Sweetest Easter picture of all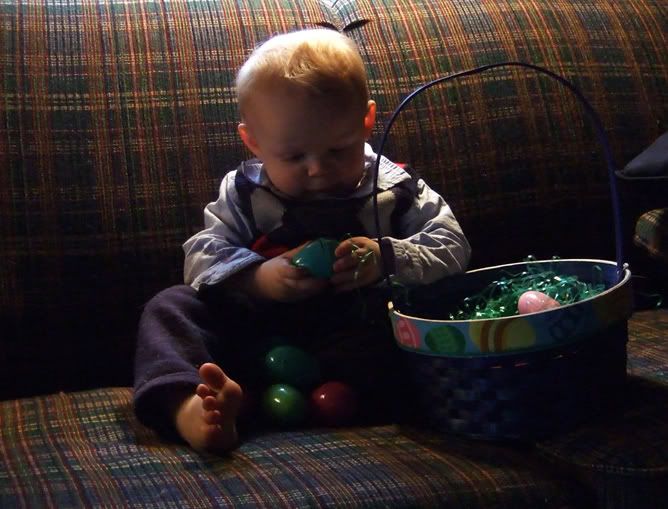 8. Side view pulled back of "why I feel like a beached whale"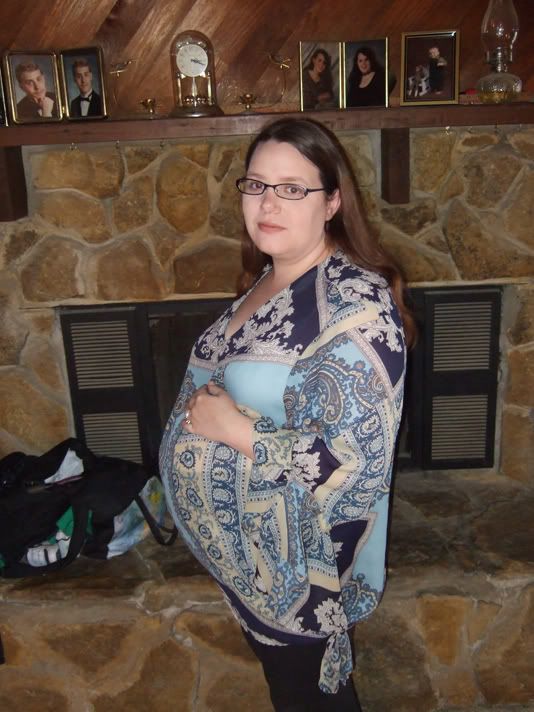 9. Side view closer


10. I can't see my feet